An Oasis:
I always find rest and repose visiting this out of the way place of sacred worship built and maintained by Okie Trads since the '80s, devoted to the Traditional Latin Mass. A highway from midtown OKC takes you due west through the suburb of Bethany, past Nazarene University. Glance to your left and there's Jim's diner, a frequent place for parishioners after Mass to gather. Hang a right, then a left, and you're going down a quiet road in a small neighborhood. It feels like a quiet hamlet in the country.
Turning the rounded corner a sign greets you which reads "St. Michael's Catholic Chapel, Traditional Latin Mass." A small quaint, beautiful Spanish-style church makes this spot a surreal oasis. Just feet from the church door, ducks and geese swim in a picturesque pond, across from which is a house owned by one Mr. John McFarland, an esteemed elder of the parish. Across the parking lot is the rectory with an inviting garden reserved for parish picnics and festivals.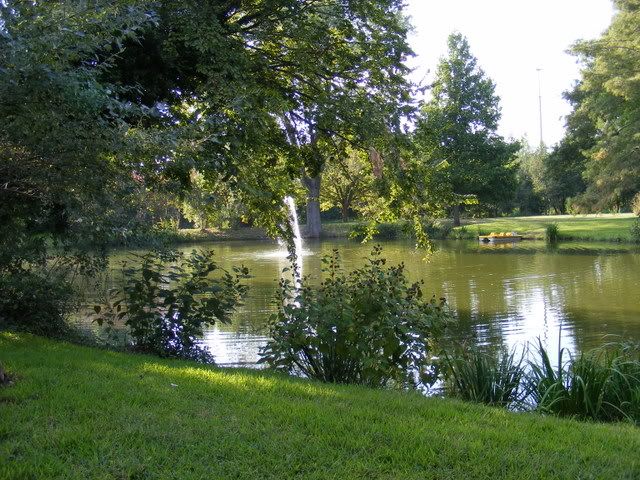 Remnant newspaper author Brian McCall, Esq., an attorney and law school dean, and St. Michael's parishioner, penned a book on the chapel's history. Once upon a time, Mr. McFarland, confronted with the Novus Ordo, wrote Cardinal Ottaviani of the then Holy Office in Rome, who wrote back advising him to use his wealth to build a church devoted to preserving the traditional Mass.
Step inside the church, and your traditionalist sensibilities will be embraced--in no uncertain terms--by a courageous plaque on the wall quoting St. Athanasius:
Even if Catholics faithful to Tradition are reduced to a handful, they are the ones who are the true Church of Jesus Christ.

"
The building is in excellent condition, very neat, clean, and well maintained. You can tell the quality of a building by their restrooms. Enough said. Going inside the nave, you can't help but pause to admire magnificent statues, paintings, chandeliers, and high altar.
Take a peak inside, in this video (go to Time 2:20):
A Vibrant Latin Mass Parish in Oklahoma:
Parishioners fill the church for Sunday Mass. A platoon of weekly-trained, dutiful altar boys accompany the priest as he ascends the altar for the Holy Sacrifice. The women's choir is bar none the most angelic choir I've ever heard. Gregorian chant and Sacred Polyphony transport you to heavenly realms every Sunday and major Feast Day.
Catechism classes, men's and women's groups, homeschooling coop activities fill each Sunday's bulletin. If you're visiting OKC on a Saturday, take advantage of the conferences after Mass provided by the priest. Be sure to bring some dinner to eat during the talk; other's do, its a tradition. And before leaving town, I highly recommend visiting Bricktown entertainment district in downtown OKC.
For Mass Times, check out their Website:
LINK
Oh, by the way, the priests who serve this parish are members of the Priestly Society of St. Pius X. For more information on their work, visit their website here:
LINK