From the supernatural view, the upcoming Beatification of Fr. Stanley Rother this month seems even more monumental for the US than Hurricane Irma. He will be on the way to becoming one of the few American saints. And God knows our country needs more saints.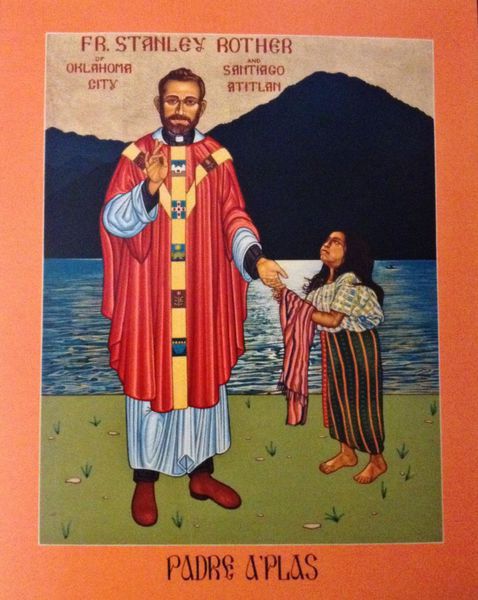 But as a traditional Catholic, there is the requisite moment of pause every time a conciliar pope beatifies or canonizes a post-Vatican II saint, if they are trying to canonize Vatican II. Yet, the overwhelming majority of theologians traditionally teach that canonization is infallible, so if the same should apply to beatifications, then I am prepared to publicly venerate at Mass and promote on this blog Fr. Stanley Rother as a saint.
Hirsch wrote about this recently here.
We need more saints, and a true Okie saint would help build up our own Local Church. On the other hand, since canonization/beatifications have not been ruled by the Magisterium to be infallible, and is therefore an open question, then if there is serious reason to doubt the beatification of Fr. Rother, then I am equally prepared to discuss the issue. What is at stake is a true understanding of Catholic sainthood, not to mention a true understanding of the Catholic Faith.
From what I understand about his cause for canonization, the crux of the question rests on the claim he is a martyr. He was known for orthodoxy and personal holiness, but what makes him stand out was the fact he was killed because he was a priest.
Perhaps what throws tradition-minded, orthodox Catholics, is how Fr. Rother is so frequently depicted either wearing a rainbow stole over a plain white alb, or wearing lay clothes. I have to wonder how much those images really represent him, or are used to paint him as a liberation theology-style worker priest.
But his cause begs some questions. Is there a movement in the Church to canonize priest freedom workers killed in South America in order to promote a liberation theology view of Catholicism? Is being killed for a Catholic-based political stance a new form of matyrdom? And how do these questions apply to the cause of Fr. Rother?
The deciding question is: did the killing of Fr. Rother meet the traditional definition of martyrdom?
The beatification is still a fortnight away, so I suppose it's still an open question. I for one dont want to witness a somehow invalid beatification, so I am actually eager to welcome not only a new American saint, but an Okie Saint! From what I've read of Fr. Rother's life, there seems to be much to venerate and imitate, especially his love of the poor. He was a devout priest who refused to abandon his mission knowing he was on a Hit List.
Your thoughts? The Comm Box is open!