Gotta love Youtube, despite all the political correctness that is trying to take over social media.
In one sitting, you can watch the fun documentary about "Pope Francis" of Topeka, KS (popcorn worthy), a video made by a young Brit about how he made a primitive cabin in the woods using "bushcraft," and videos by Michael Voris over at ChurchMilitant.com
I like Voris. He is one of the good guys. It will be work like his that helps reverse the Crisis in the Church, one day. I hope. While my budget doesn't allow me to be a paying subscriber at the moment, there's all sorts of free stuff over at YT.
And then there was this whopper, Voris defending the Second Vatican Council's document on Religious Liberty here in Tulsa, Oklahoma, attended by local trads from the diocese. In a nutshell, Voris' stated polemical position is squarely to the LEFT of the SSPX (and Archbishop Lefebvre's analysis, btw).
VIDEO (2013): Michael Voris speaking in Tulsa, OK
As an aside, a frequent Okie trad commentator here at the Okie Traditionalist blog, whose name shall remain private, helped organize this event.
"Cracker Jack" advisor Fr. Paul Nicholson was also present to set the record straight, for traditionalists. Inside joke for his past followers. :)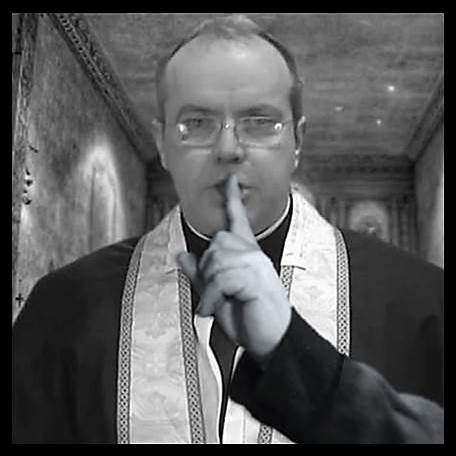 Photo care of AKA Catholic, aka Loui Verrocchio.
Which brings me to Time 20:40 - 20:58, in the upper right hand corner of the video, you see a possibly interesting if not comical contrast. Fast forward below:
It is the famous Fr. Angelo Van Der Putten, an affiliate of the FSSP, and former member of the SSPX.
Either he was sleep deprived from being the Energizer-Bunny in persona, that he is, or he was closing his eyes in silent, prayerful reserve towards Voris' position. Or both, I suppose. :)
I for one once asked Fr. V: "What should we make of the doctrinal errors of Vatican II?" to which he answered "Well, like the Archbishop advised, whatever is clearly orthodox we accept, whatever is ambiguous we accept in light of Tradition, but whatever is an error we do not accept."
So when I saw Padre nod off, I imagined what he might have been thinking, at least during that particular talk, about the most controversial element of the Pastoral Council, i.e. so-called Religious Freedom (vs. the traditional doctrine of Religious Tolerance): "This is not what I learned in the seminary, Mr. Voris."
At any rate, Traddom will always have its different polemical positions about Vatican II, the New Mass, conciliar papal policy, how to respond to a heretical Pope Francis putative pope, etc.
As I always say, while there is a time/place/method for dealing with differences, what matters most is that we traditional Catholics be united under the bi-fold source of church unity: unity in the Faith, and unity under the divine government of the Church. Wouldn't you agree?
So what do you all think? Is Voris right, that ALL VII's statements on religious liberty are kosher, in full continuity with Sacred Tradition?
Remember when the OKC mayor allowed a Black Mass on city property a few years ago, because of religious liberty?
And the Catholic response, including an SSPX public Mass of reparation?